Safety is the most basic and important for every family.The continuous innovation and development of intelligent technology is to make every family more secure and enjoy the convenience and comfort brought by intelligent technology.With the continuous renewal of Internet of things, Internet and artificial intelligence technology, earth shaking changes have taken place in door locks.From the traditional mechanical lock to the intelligent door lock, the function and overall use of the door lock have been improved.
So what functions are popular with people for the current intelligent door lock?
1. A smart lock that can connect to the Internet is a good smart lock
If a smart door lock without networking is no different from the traditional mechanical lock, it is nothing more than fingerprint and face recognition unlocking.But one will connect to the Internet(it can be connected to the corresponding platform terminal to achieve a series of operations such as remote control, such as the remote control operation of mobile phone door lock). The playability of smart door lock is very high. From a professional point of view, smart door lock that can connect with the system is to make the smart door lock link with the system, so as to bid farewell to single machine, but more still make its function better extended.
Here we take yk01 as an example.
Yk01 is equipped with a variety of unlocking methods such as password, card swiping and remote. It can also be connected to the mobile phone. It can generate a one-time password unlocking through the app bound on the mobile phone to avoid the visit of relatives and friends when the resident is not at home.In addition, when the smart door lock is pried or damaged or the password is entered incorrectly for many times, the system will push the message to the administrator's mobile phone for the first time through networking, so as to avoid financial losses and ensure home safety.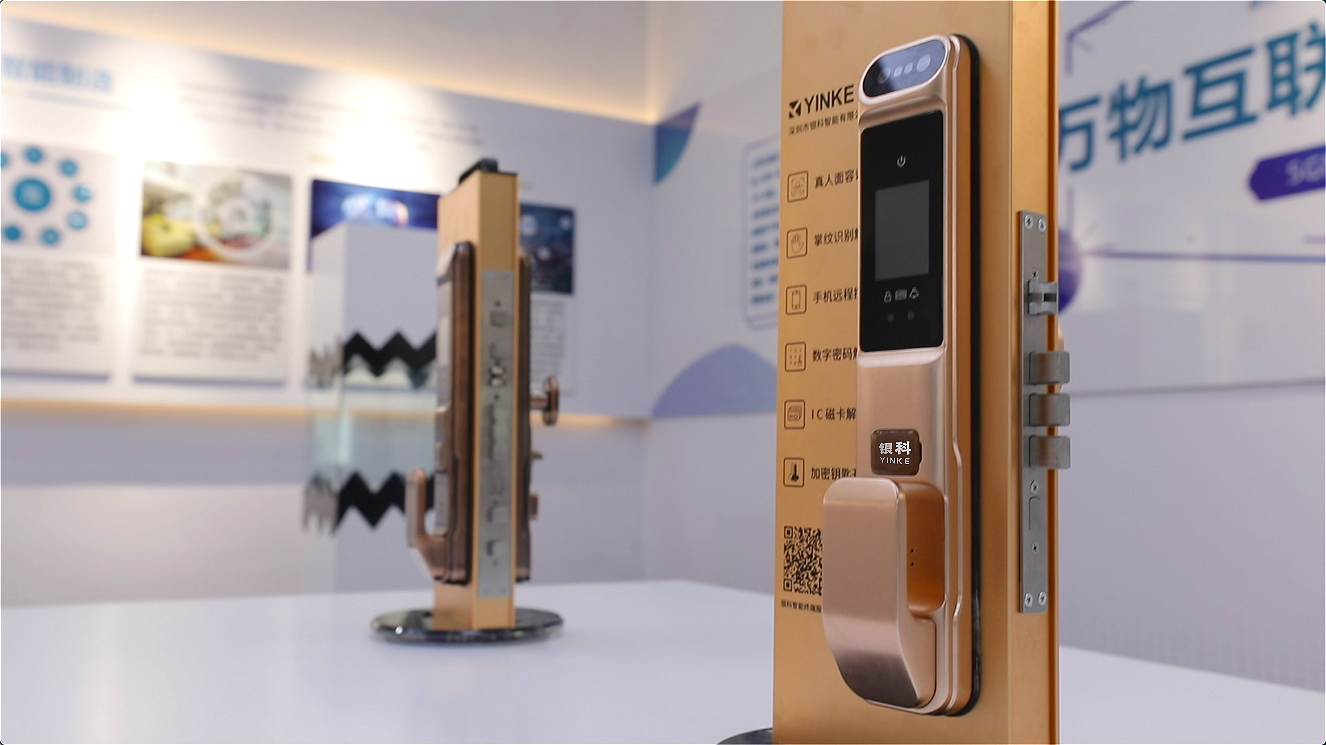 2. Safe and convenient, this is a good attitude of smart door lock
In addition to yk01 lock, we have also developed a high-performance DSP security chip and a new generation of semiconductor fingerprint identification technology, which is YK03, the fingerprint identification intelligent lock of Yinke intelligent.Not only can the high-performance DSP chip make the operation speed algorithm more accurate, so that the user data can be protected with multiple layers of precision;With the technical support of semiconductor fingerprint unlocking, the unlocking time can be controlled within 0.5s, which is convenient and worry-saving.
In addition, YK03 is also commendable in the product design of intelligent door lock.First of all, in terms of the working energy selection of the lock, the No. 5 dry battery is used, and the emergency power supply is 5 V miceo USB charging, which can help users deal with a variety of accidents at any time.Secondly, YK03 adopts the hidden mechanical key design, which greatly improves the overall beauty of the door lock.
3. Door lock + platform = function expansion and diversification
Each networked smart door lock developed by Yinke intelligent can be subject to centralized management, hierarchical processing and authorization, real-time collection and upload of door opening and closing records through Yinke intelligent's exclusive smart home smart IOT management platform, so as to truly make users' travel management data and intelligent.
Conclusion:
In addition to providing users with cost-effective products, services and technology are the top priority of the enterprise's own development. Now, smart home applications are becoming more and more extensive, and the networked smart door lock technology is becoming more and more mature. Yinke intelligence will study hard in the future development and is determined to provide users with safer, more convenient and more worry-free products.